"Strength does not come from physical capacity. It comes from an indomitable will."
Mahatma Gandhi
H
ello readers and followers of my blog. Like you, I am also coping and trying to understand what my new "normal" is, or will be like following Covid-19. For many in our GNEM community we were already practicing some form of "shelter-in-place" due to reduced mobility because of the limitations associated with GNEM. Despite our physical limitations we were still able to have some semblance of social interaction with others. Now, many of us feel isolated and fearful because of the high contagion factor of Covid-19.
For me, I have not been able to go out for more than one hundred days to my aqua therapy nor the gym, and my fear is that I will be weaker once I resume these activities again. I know we are
Rare Warriors
and we will adapt and change to our new situation.
Most importantly, GNEM patients were expecting to participate in the long anticipated multi- center ManNAc trial and as a result of the global shutdown, we must wait even longer for this trial to start. For now, anyone who is interested in participating in this trial, if you have not already, please contact the specific site closest to where you live. For international patients, you may contact the NIH Clinical Center.
Since, I have not posted any updates for a while. I want to bring you up to date with a list of events that has been taking place in our community.
Every Friday the
Neuromuscular Disease Foundation
(
NDF) has been hosting virtual GNEM Speaker Series in lieu of its Annual Symposium. R
ecordings, pdf's, along with "key take-aways" information of past presentations could be found at this
website
.
Most of the speakers thus far are are currently involved with GNEM projects and research.
Upcoming Events: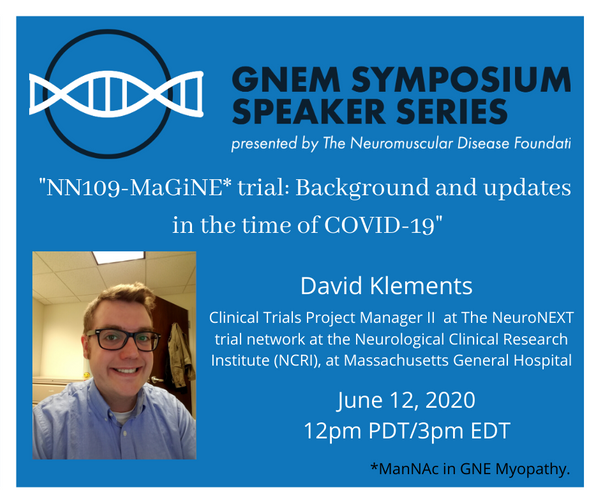 3. NDF Talks: A monthly podcast whereby patients,family members, caregivers and scientists share their thoughts on GNEM.
4. A virtual monthly private support group continues to meet on the first Sunday of every month. This is a group where patients, families and caregivers share their hopes, fears, and offer support to their fellow participants. Click here for the registration link to the monthly Huddle meeting.
On May 16, World Without GNE Myopathy (WWGM) organized a session on "The Benefits of Yoga for Muscular Dystrophy". Mr. Mangaldharam Avishek a yoga expert who practices the tradition of Satyanand Yoga conducted this session. This was an introductory session on the holistic perspective on health as a combination of healing the mind, body and heart. He also shared the ancient wisdom of Ayurveda (natural system of medicine). Finally, certain yoga poses were demonstrated followed by an extensive Q & A session. WWGM believes that yoga could have powerful healing benefits that may be useful for GNEM patients and therefore will be offering more of these sessions. To participate in one of these sessions refer to his Facebook page of Mangaldharma Avisek.

Links for Recent Articles(Abstracts) and Resources for GNEM:
On A Personal note
: Since I started writing my blog, globally I have attempted to find patients, doctors and others affected by GNEM. Again and again, I am pleasantly surprised when a patient contacts me because they have read or found my blog while trying to find out about GNEM. I do not how how many GNEM patients I reach with my blog since my blog platform does not differentiate between readers (patients and others). Recently however, I was very delighted to hear from GNEM patients in Russia. I feel touched, inspired, and encouraged to have made contact, and by the fact that we were able to share and discuss our insights about GNEM.